Monthly Archives: January 2019
Chris Pratt, the stud in such movies as "Guardians of the Galaxy'' and "Jurassic World," who's shined his Hollywood star on a slew of film and TV roles, has apparently broken from the pack of bland, pretty-boy ­actors — by farming the land, openly worshipping God and observing a brand of personal and political conservatism capable of making progressive heads explode.
How dare he! Perhaps more ­remarkable considering all of the above, in 2015, Pratt was named one of the 100 most influential people in the world on the annual Time 100 list.
And yet that didn't stop Kaitlin Thomas from going after him in a snarky piece published by TV Guide last week as part of the magazine's "12 Days of Chris-Mas'' feature — a celebration of 12 dudes named Chris, including Chris Pine and Chris Tucker, even Ludacris. Pratt comes in fifth place, but only after a sound drubbing.
The piece — headlined, "How to Love Chris Pratt Without Hating Yourself: He's Definitely the Most Divisive of the Chrises" — is so petty and mean-spirited, it could only have been intended to turn fans against its subject. This, even as the author asserts that "many people" — maybe in Tinseltown — share the author's distaste for Pratt's way of life.
"When you take a deeper look at Pratt the man and not necessarily Pratt the actor, some of the shine wears off," Thomas wrote. And then she goes at Pratt for, apparently, trying to give away his family's aging cat via Twitter in 2011. The cat found a good home, and crisis was averted. But that was only Thomas' first gripe.
Next, she attacks Pratt because he and his then-wife, Anna Faris, tried to get rid of the family's pet Chihuahua five years later (the couple's son was allergic), resulting in the pooch for a while wandering the streets of Los Angeles.
Horrors! The beastie was ­returned to a loving home. But of all the animal-cruelty complaints against Pratt, the most wickedly ­unfair is Thomas' diatribe about his love of hunting — a responsible and clean method of feeding his family. (And I would never kill an animal.)
Writing about the lambs he raises on his farm on an island off the coast of Washington state, Thomas condemns Pratt for a video he posted to Instagram this year, in which he said: "They are the happiest lambs on the planet, they are so sweet and then one day they wake up dead and they're in my freezer." The writer doesn't ­divulge if she eats meat.
Pratt then comes under fire for joking about the "outrage culture'' that has engulfed society, which the TV Guide piece, I would venture, illustrates perfectly. He also takes licks for telling Men's Health in 2017 that stories about his kind of blue-collar upbringing are ­under-represented in Hollywood. Well?
"The idea that Pratt doesn't see himself — though he may come from a working-class family and spends most of his time on a farm, he's also a successful, straight white man at the heart of two ­major film franchises — as being represented in television or film is ridiculous," Thomas writes. "But the truth is, the reason Pratt's comment enraged so many people is because it ignored the fact there are a number of communities ­actually struggling for better representation.''
Perhaps to fend off people coming for him with pitchforks, Pratt actually apologized for making this "stupid'' comment about the lack of characters like him in Hollywood fare.
He shouldn't have bothered.
Thomas makes clear that her main grievance against Pratt is with something over which he has no control — he's a "straight white man." As much as she might ­resent Pratt's skin color, his sexual orientation and his success, she can't just wish him away.
Then there was the egregious Instagram post in which Pratt told people to "turn up the volume" and not just "read the subtitles" — which apparently could offend the hearing impaired. Whatever.
One thing not expressly referred to in TV Guide is Pratt's deep Christian faith, a rarity in amoral Hollywood. And something I ­applaud. You are free to hate Chris Pratt's hunting, his conservatism, even his acting. But don't hate him. He is to be praised, not scorned, for the way he lives. This is one good and humble man.
By Andrea Peyser
Eastern Turkey had a large and thriving community of Christians a little over 100 years ago, but since then most have been dispersed or killed. The BBC's Eli Melki went to look for traces of a relative, who was martyred at the age of 33.
One evening in June, I sat in the sunset among the Roman ruins of Zirzawan hill, in south-east Turkey. This is where it's said the remains of one of my ancestors are buried in a mass grave. Leonard Melki was about 33 years old at the beginning of World War One, and his fate was determined by his Christian faith.
At that time, between a fifth and a quarter of the inhabitants of eastern Turkey – then part of the Ottoman Empire – belonged to an array of Eastern denominations of the Christian Church, including the Armenian Apostolic Church, the Syriac Church, the Church of the East (Nestorians) and the Chaldean Church.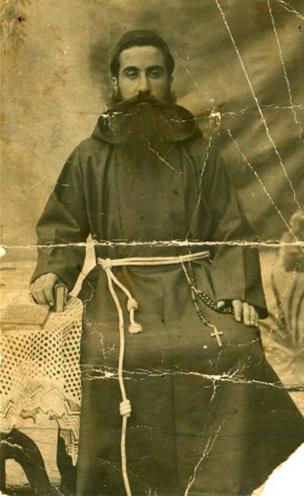 All except the Armenians worshipped in Syriac – a dialect of Aramaic, the language of Christ.
They lived among the empire's Muslim majority and, while many prospered, at some times and in some places they were subject to outright persecution; in World War One, it went far, far beyond that.
Leonard, my great-grandfather's cousin, was born a member of one of the Eastern churches – the Maronites – but later became a Capuchin friar, and in his mid-20s he was sent to run the order's school in the city of Mardin, close to what is now the border between Turkey and Syria.
At this point Christians represented between 35% and 40% of Mardin's inhabitants. The Capuchin monastery, where Leonard taught boys the rudiments of the Christian faith, stood alongside a Franciscan monastery in a prominent position in the city centre.
To find out more about Leonard, I spoke to his great-nephew, Fares Melki, who has set up a website dedicated to Leonard and other missionaries from Baabdat, the small town near Beirut where we were both born. As we sat under our family oak tree, he told me that Leonard was born Yusuf (Joseph in Arabic) in about 1881, one of 11 children. As a boy he would have tilled the land around where we were sitting.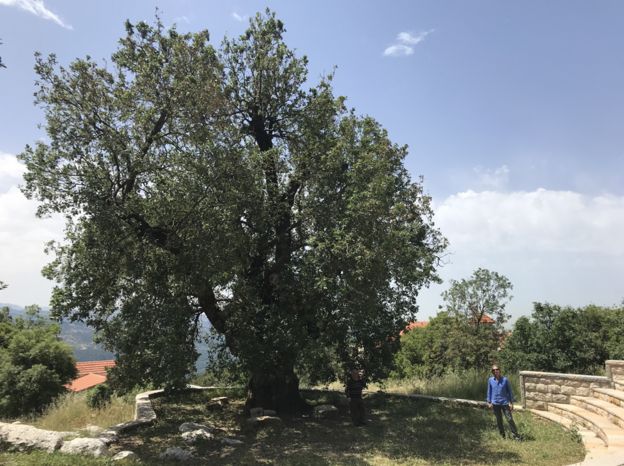 Fares showed me some yellowed letters and photographs Leonard sent to relatives and to his superiors. They reveal a young man dedicated to his faith, attached to his sister Tamar, and eager – despite problems with his health – to embark on a mission 1,000km from his picturesque and prosperous home in Mount Lebanon.
In one letter, written in 1912, he wrote about young Muslim men from Mardin being sent to fight in the Balkan Wars.
"Poor souls, I pity them. They are marching like sheep to the slaughter, poorly trained and equipped, but displaying an admirable courage despite of it all. Lacking everything – even bread – they end up by devastating everything and terrorising people wherever they set foot. May God put an end to all this misery, and grant peace and tranquillity to the land."
But not long afterwards, World War One did the opposite, and the nationalist Young Turks then in control of the Ottoman Empire began to fear a possible alliance between the local Christian populations and Russia, which had quickly gone on the offensive.
The decision was taken to deport the Armenian population into the interior provinces – though in practice men were often simply executed, and women and children forced into convoys that morphed into death marches.
While these actions were directed against the Armenians, they had the effect of signalling that all Christians in the region had lost the protection of the state. The result was a wave of pogroms, carried out both by the local Ottoman authorities and some Kurdish tribesmen.
Some Syriac Christian churches are estimated to have lost up to half their congregation in the violence. They call this Seyfo, the Year of the Sword, and Leonard was one of the victims.
Today, almost nothing remains of Mardin's ancient Christian heritage. There is no trace of the Capuchin monastery in Mardin, though by chance I met a local historian – possibly the last Armenian living in the city – who was able to point out the precise location of the neighbouring Franciscan monastery. Using old photographs and the memoirs of her grandmother – once a pupil at the girls' school run by Franciscan nuns – she has been able to pinpoint exactly where each arch of the building stood. Today the site is a busy and noisy car park among the narrow shopping streets of this Turkish city. It's hard to imagine now the sounds of the schoolyards and the monastery bells.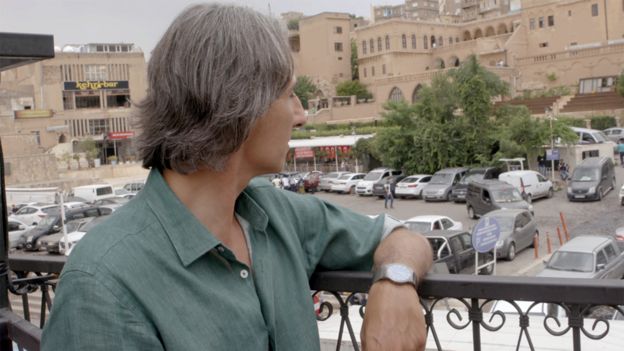 But below ground level, in a former public bath building, my Armenian guide showed me an archway, a remnant of one of the two defunct monasteries. And suddenly in my mind's eye I could see Leonard and his pupils passing by – or being dragged along after his arrest.
Leonard was seized in June 1915, when the authorities rounded up a number of clergymen and other notables of the city on trumped up charges of collaboration with the enemy, usually the French. Christians had widely come to be seen as a fifth column of the Western powers, and the missionaries treated as enemy agents.
We walked along the winding old main street referred to by a Dominican monk, Jacques Rhétoré, in his account of the arrests.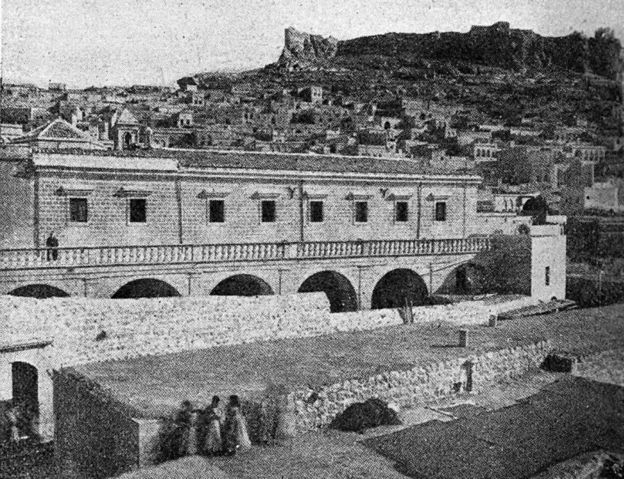 "Father Leonard, a Capuchin, was in front of the convoy of detainees, between two students of Saint Francis's school. As he passed by his convent, he looked upward, in a last salute to the holy house where he lived in the bliss of doing good deeds. There, the soldier flanking him dealt him a blow on the head with a club, yelling at him: 'Walk straight you dirty Fraranji (Frenchman)!'"
The convoy, one of many, was led towards the city of Diyarbakir, where the detainees were to be tried for treason. However, in the middle of the journey, the column of detainees, now in a sorry state, was led to the hill of Zirzawan.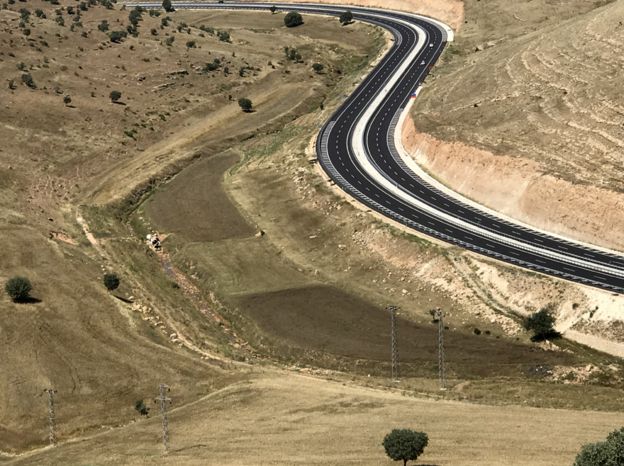 Their final hour was recounted by another Dominican, Hyacinthe Simon.
"They were killed by groups of four, with knives, daggers and scimitars, or clubbed to death, then their bodies were thrown in the wells. The old fortress still holds their bones and the secret of their last moments," he wrote.
Sitting on Zirzawan hill, I wondered what must have gone through Leonard's mind as his life was about to end. Did he remember our peaceful hometown, the family land with its majestic oak tree, his fellow friars, his beloved sister?
For me, Leonard personifies the tragedy of hundreds of thousands of mostly innocent and unarmed people, who were were killed during the fateful spring and summer of 1915 in the eastern part of the Ottoman Empire. It helps me to fathom the enormity of this disaster.
In the distance, I could still see the sprawling new city of Mardin. The old road taken by the death march has now been replaced by a motorway, emblematic of a resurgent Turkey, a country where the two-millennia-old Christian presence has been reduced to the ruins of places of worship. And to about 2,500 Syriac speaking people, who still cling, against all odds, to a handful of towns and villages in the nearby region of Tur Abdin, the "Mountain of the Worshippers".
What was once one of the most ancient and dense Christian presences in the world now stands on the brink of extinction.