if "released from custody, there is a substantial likelihood defendants may commit new crimes due to their planning and preparation for future school shootings".
A man arrested after 11 malnourished children were found in a remote desert compound was training them to commit school shootings, US media report.
According to prosecutors' documents, Siraj Ibn Wahhaj was teaching some of the children, who are aged one to 15, how to use weapons.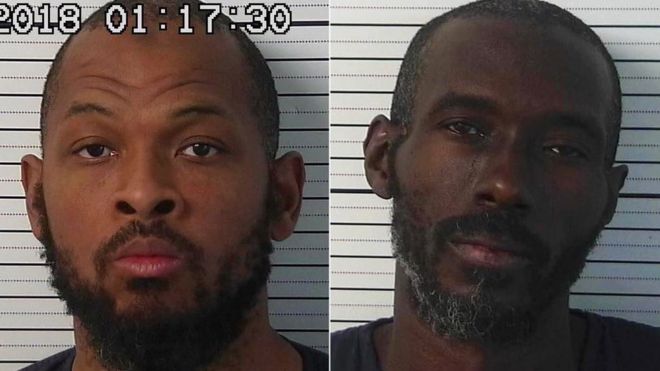 Mr Wahhaj was one of two armed men arrested at the scene on Friday in New Mexico. Three women were also arrested.
Police say the remains of a boy were also discovered at the compound.
Found on Monday, the remains are those of Mr Wahhaj's missing three-year-old son, Abdula-Ghani Wahhaj, the Taos News reports.
Mr Wahhaj is suspected of abducting the boy from his Georgia home in December, and it was the search for him that led to the arrests.
The toddler suffered from seizures according to the missing person's report filed by his mother.
But Mr Wahhaj believed the boy needed to be exorcised, say court papers.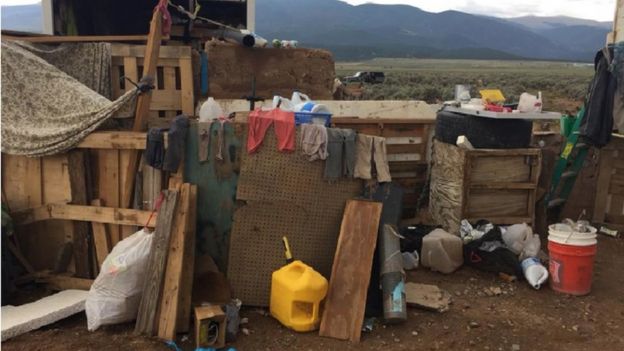 Prosecutor Timothy Hasson filed the documents on Wednesday, but did not discuss the accusations in court, the Associated Press reported.
Mr Hasson requested that Mr Wahhaj be held without bail.
"He poses a great danger to the children found on the property as well as a threat to the community as a whole due to the presence of firearms and his intent to use these firearms in a violent and illegal manner," Mr Hasson wrote in court documents.
CNN reports the legal filings also warn that if "released from custody, there is a substantial likelihood defendants may commit new crimes due to their planning and preparation for future school shootings".
The complaint cites a foster parent of one of the 11 children as saying Mr Wahhaj "had trained the child in the use of an assault rifle in preparation for future school shootings", US media say.
All five adults arrested at the compound last week face child abuse charges.
Lucas Morton was the other man arrested at the scene.
Three women, believed to be the children's mothers, were also "arrested without incident" and booked into the Taos Adult Detention Center, according to the sheriff's office.
Police have not explained what connection the women – named as Jany Leveille and Subhannah Wahhaj, both 35, and 38-year-old Hujrah Wahhaj – have to each other.
The officers who discovered the children said they looked "like Third World country refugees not only with no food or fresh water, but with no shoes, personal hygiene and basically dirty rags for clothing".
Authorities had raided the site after receiving a message from someone that read: "We are starving and need food and water."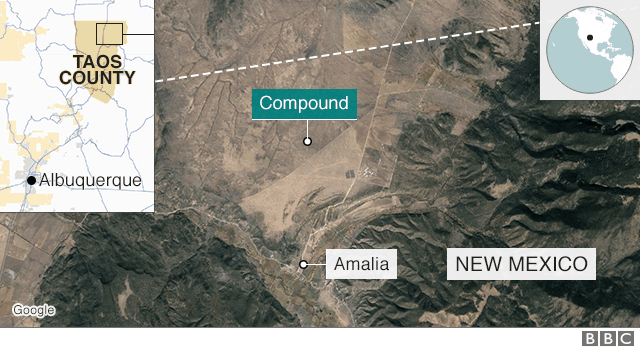 Police said they had been aware of the compound for some time but had to wait for a search warrant before entering, as the occupants were "most likely heavily armed and considered extremist of the Muslim belief".
Mr Wahhaj was armed with an AR-15 rifle and four pistols when they encountered him, they said.
According to New York media, Mr Wahhaj's father, Imam Siriaj Wahhaj, is a prominent Muslim leader in Brooklyn, who has been called "one of the most admired Muslim leaders" in the US.
He reportedly testified as a character witness at the trial for Omar Abdel-Rahman, who was later convicted of the 1993 bombing of the World Trade Center.
In 1991, he became the first Muslim to lead an opening prayer before the US House of Representatives.